Back "Up" from Maine
Bar Harbor proved to be our most easterly destination. While we had teased ourselves with the idea of heading a little further on towards Canada, it was mid-August, and the weather seemed to be changing. We decided to start heading south towards New York, where we needed to be by September.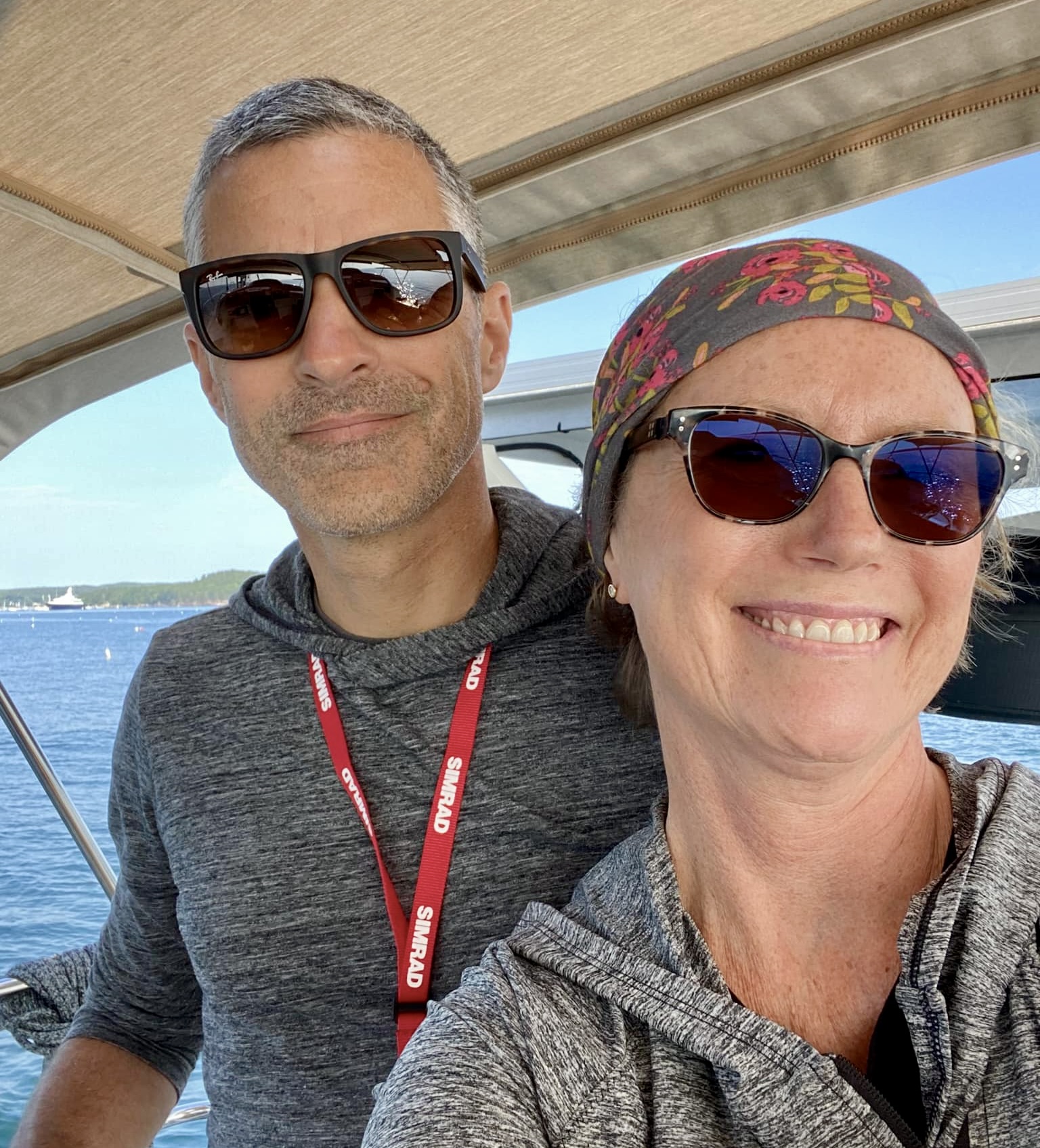 Since the prevailing wind in this part of the world is from the south, sailors have long described the easier journey north as going "down" to Maine. We were expecting to have to battle our way back south against the wind, back "up".
But on our first day out of Bar Harbor, the problem was not wind (of which there was very little) but fog!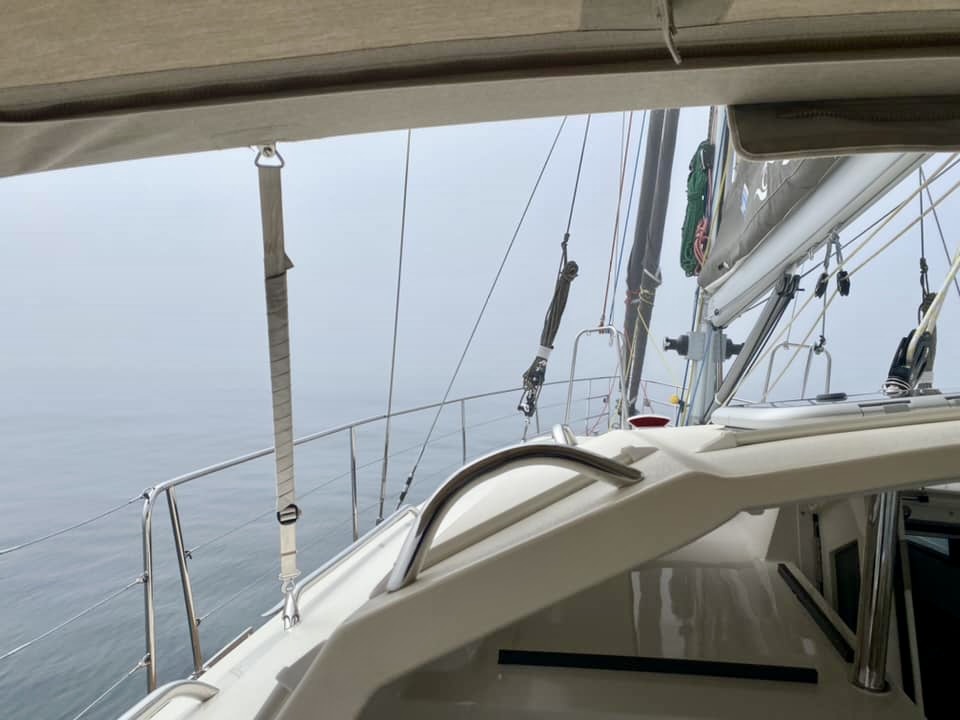 We had been really lucky avoiding fog for almost our entire time up in Maine, but as we headed towards a small archipelago just north of Isle au Haut, it closed in tight.
We could see several other sailing boats on our AIS - a system that helps prevents collisions at sea - but we also knew that many boats are not equipped with the transmitters, especially the very numerous lobster boats that race around the area throughout the year. Though their exhausts are loud (you know they are out there somewhere!), it's hard to know for sure where they are. So for the first time this summer, we fired up the radar overlay for daytime use.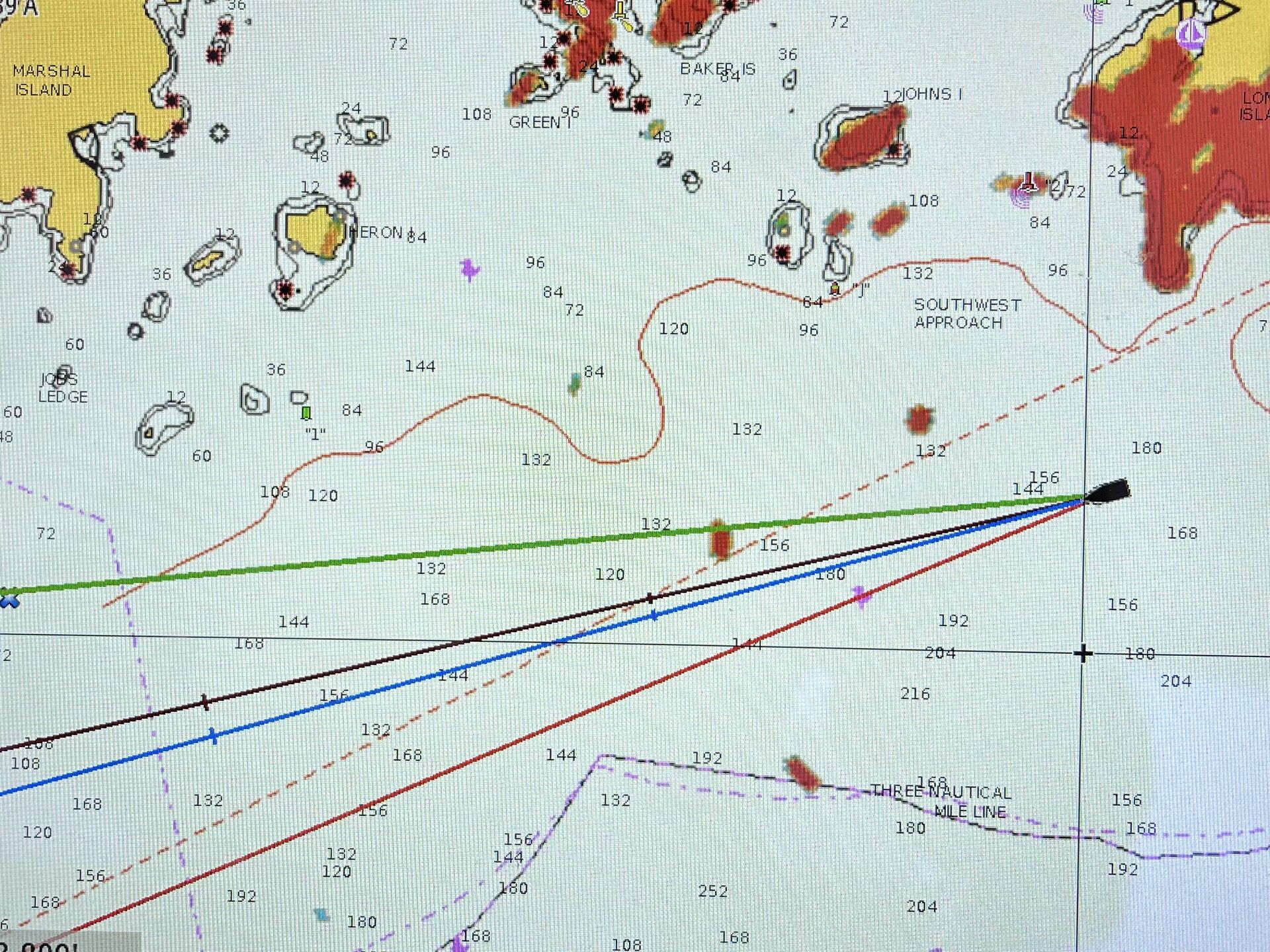 The fog started to lift by the time we reached a serene little bay between Merchant and Harbor Islands. But its ghostly remnants served as a magical kayaking experience that evening.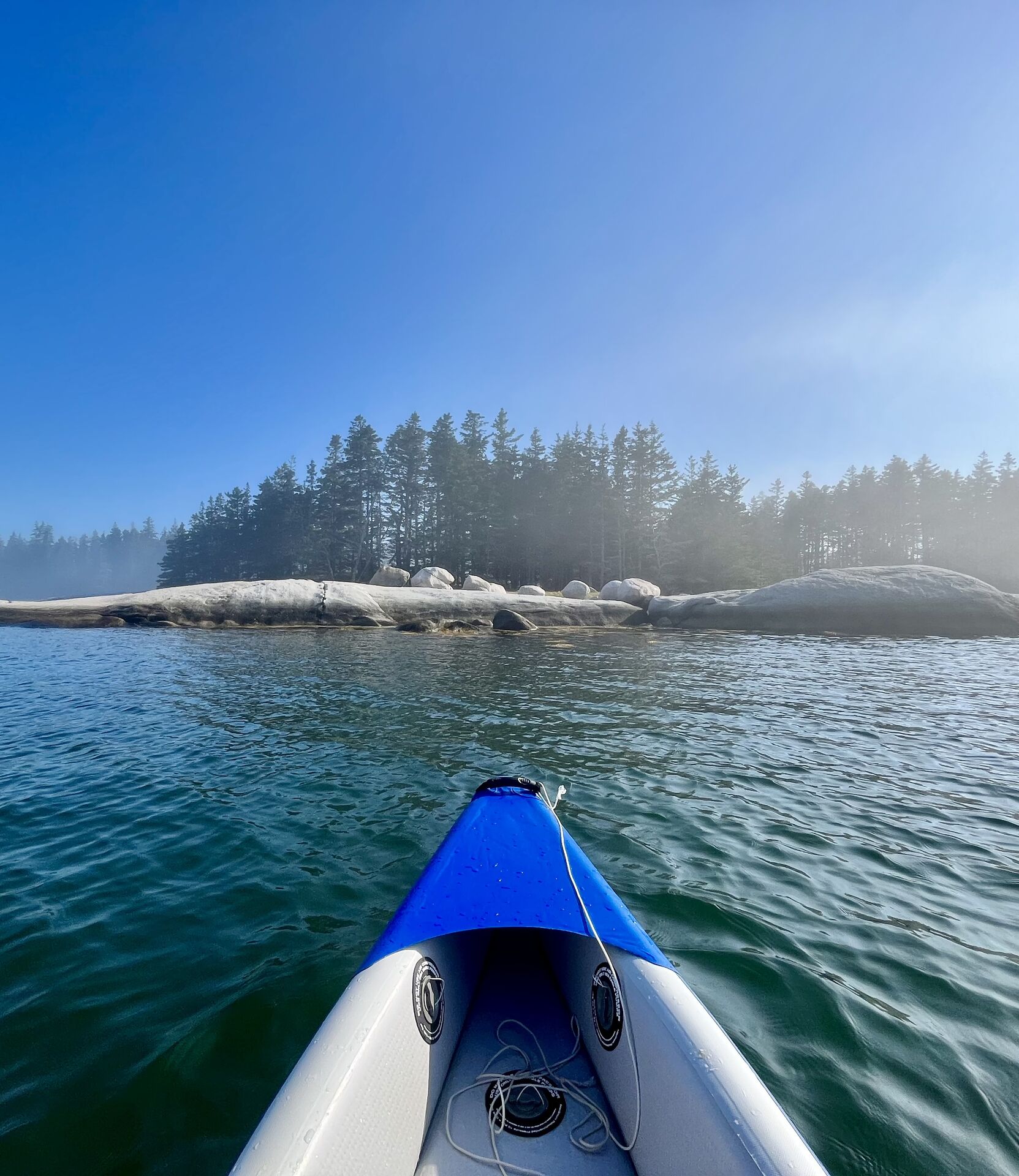 The next day, we set off west, and threaded ourselves between Vinalhaven and North Haven again, a passage we had traversed a month or so earlier. We headed over to Camden to pick up some very overdue packages and get fuelled up, and then started south to find an anchorage. But the weather struck again! A huge thunderstorm rolled off the land onto the West Penobscot Bay. We rode out a few minutes of sudden 45+ knots wind - dramatic but easy enough with our sails down and the seas calm - but Scout certainly got drenched (and clean) in the process.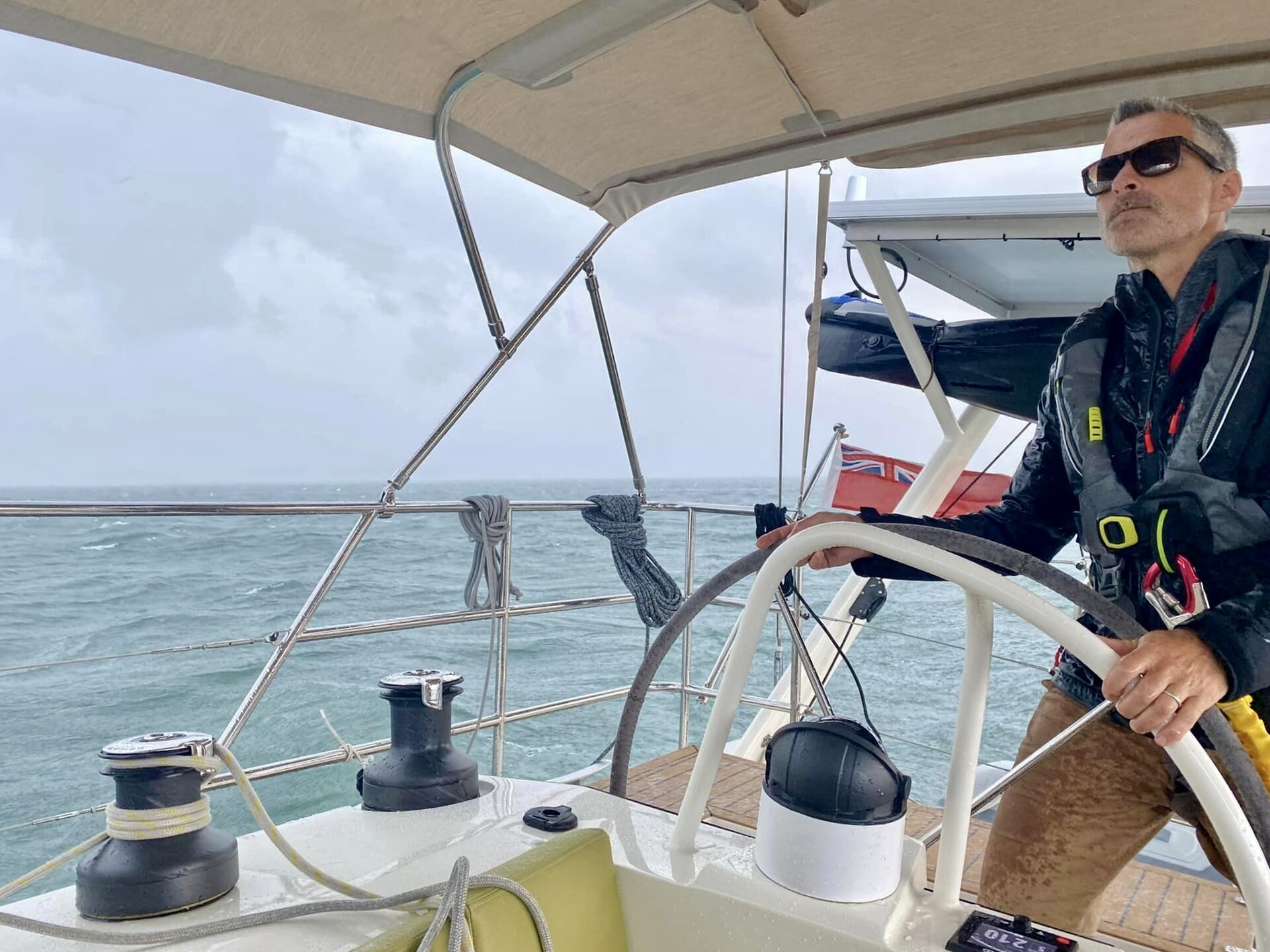 After weaving into beautifully remote Home Harbor that evening, we set off on the third day with no clear destination in mind. It looked like the fog and storms were behind us, and the wind promised to be unusually from the north - and strong, so we just wanted to see how far we could go.
In fact, the conditions were perfect, and we cranked through the miles. In the afternoon, we spied our sister yacht, Scylla, on the AIS as they were heading north from Boston - and between us realized we could rendezvous. After a long but exhilarating 50 mile day, we hit Sebasco Harbor together. A Garcia 45 is rare, but two together (apart from when they are being shipped!) is very unusual.
From there on, we couldn't have been luckier. The remainder of the week saw continued unusual north-easterly winds and we just kept going with longer days of sailing: right across Casco Bay to Richmond Island again, down to Kittery on the border with New Hampshire, and then around Cape Ann to Gloucester. We were quickly well ahead of schedule.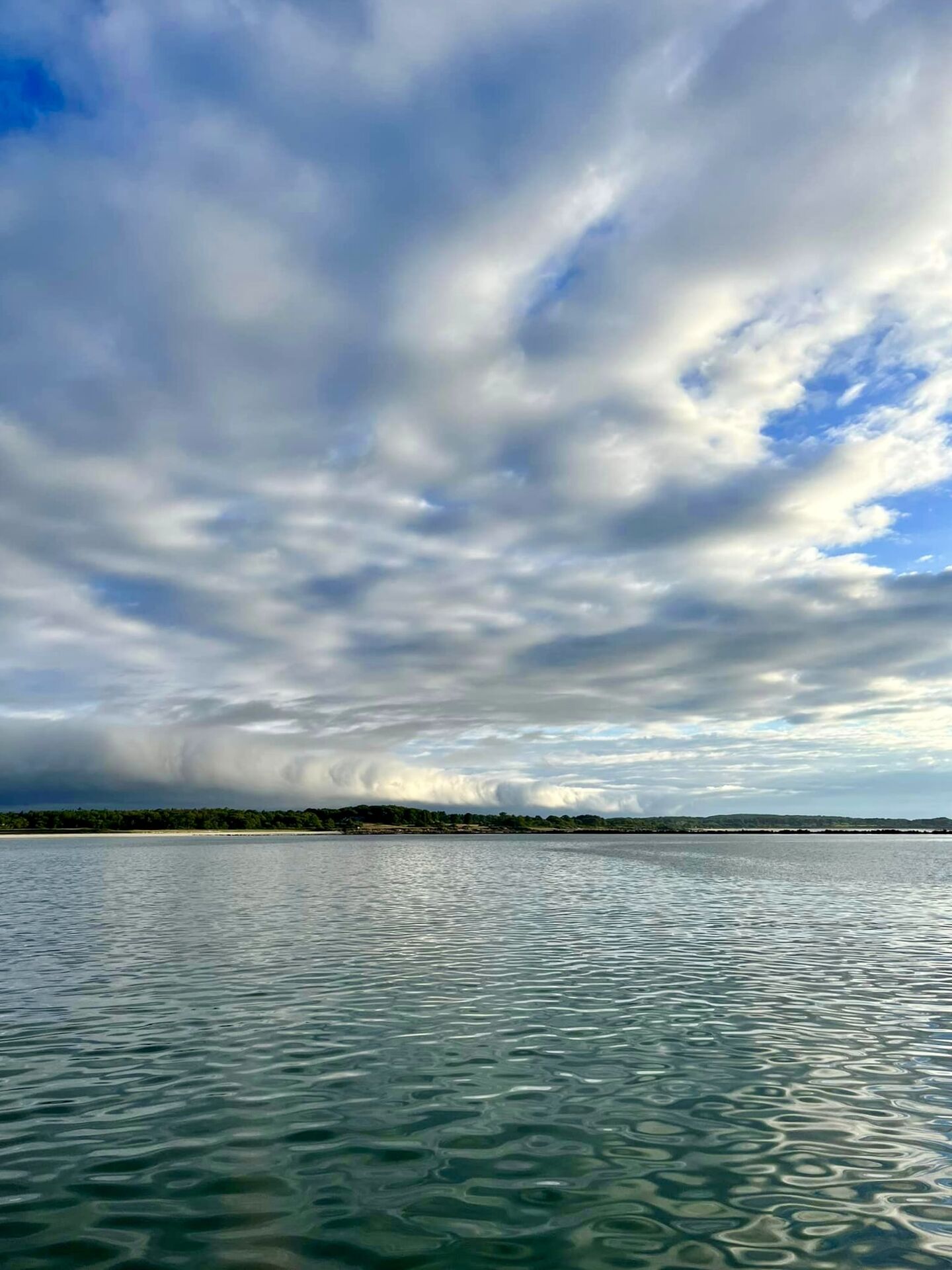 We had started this chapter of Scout's journey in Boston, 70 days earlier. On the 71st day, as we cut across the outer reaches of Massachusetts Bay Harbor to Scituate, we were now back into new territory together. And, with the wind granting us a little bit of time to kill, we were excited to get to Plymouth and start some adventures around the less familiar Cape Cod area.
And more of that in the next post!